The Diminished: Yesterday, now and forever.
Today is lazy day. I dunno, kinda balas dendam for the last week kot. Malas-ness is wrapping me tight in its cocoon..I can't get out. Or rather, i don't wanna.
Have been in Clearwater Sanctuary Golf Resort last night, for another The Diminished performance. An appreciation dinner for Dato I, one of a the board member of UTP. He is retiring and he has lots of grey hair.
Last night was our last performance, full strength. It was really bittersweet, knowing that we are probably not going to perform as a full band anymore. 4 of us are graduating next semester, one of us is going to Intel Penang for an 8-month practical, and that leaves only another 5 for next semester. We are one heck of a band, i know. 10 people. Slipknot!
Eventhough it was only this semester we have formed, it feels like a long time already. The bond that we formed is kinda strong, and we have the sense of belonging deep inside. Well, maybe it's because of the MUSIC itself, i can say that MUSIC unites us too. We know each other through music, and we speak through it as ONE.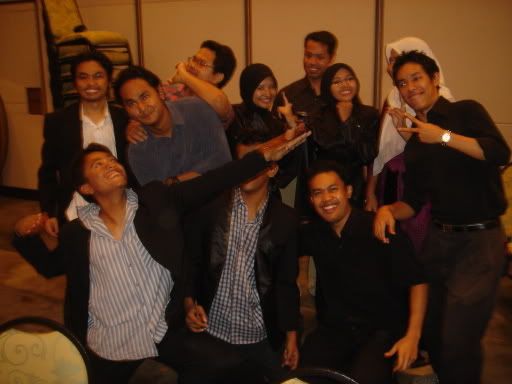 Really, i feel like if we could stay a little longer, who knows that perhaps someday we will be the next Gerhana Ska Cinta =P I am not saying that we should, but i just think we could.
Yeah, the Diminished will be in my memory forever. A ROCKIN SWEET one.
To you guys the Diminished out there, jangan lupa kitorang ehh..Huhu. Love u all.
Now i really feel like crying. Sob sob..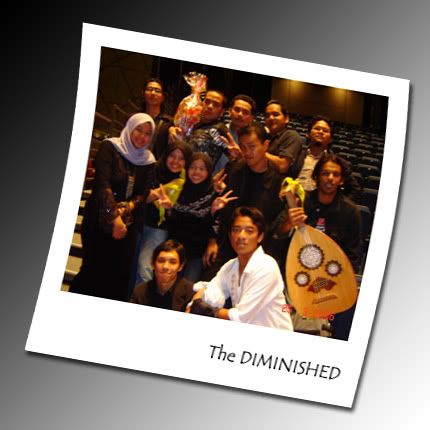 For the record, we never broke up, we just took a 14-year vacation - Eagles -